Redefine Data Usage
with Embedded Power BI
The abundant usage of Smartphones and other mobile devices coupled with cloud computing has immensely increased data production. While cloud computing enhances the speed and scale of data storage and its access, IoT has increased the number of data activity points.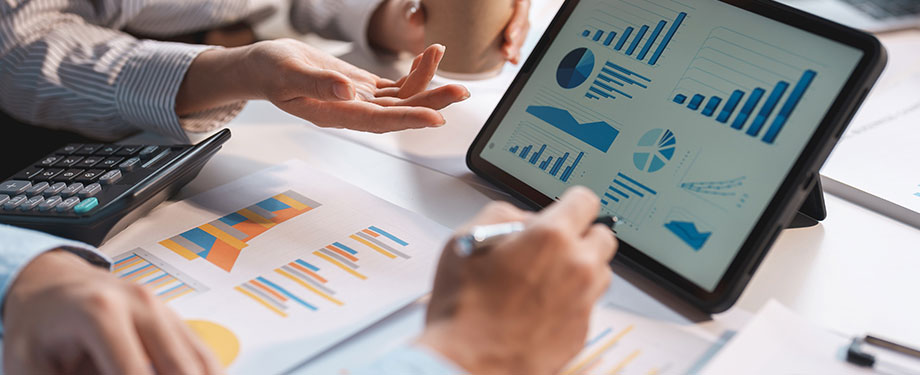 Traditionally, this incredible amount of data collected from varied sources were stored and never used again. However, recent technological developments and innovations have shown how businesses can leverage this data for profitability and growth using a process known as Data Analytics. Simply speaking, data analytics is the process of transforming, organizing, and modeling raw data to identify patterns and draw meaningful conclusions.
Consequently, many software vendors started integrating Data Analytics into their existing products to significantly increase their applications' utility. These applications could now deliver additional value by empowering business decision-makers, workflows, and day-to-day business applications with vital, actionable insights. Businesses were quick to leverage it by making quick data-driven decisions without interrupting workflows, resulting in increased productivity, a seamless UX, and enhanced revenue growth.
This whitepaper attempts to understand the fundamentals of empowering businesses with tools to increase data analytical capabilities.
Two processes, Data Warehousing and Embedded Analytics, play a significant role. However, a quick knowledge transfer on the basics of these two processes is vital to progress this whitepaper.
Data Warehousing: A Short Note
The success of any business analytics software depends on the efficiency of its data warehousing process because data warehousing primarily sources data for business analytics tools like the dashboard, reports, datasets, and visualizations. Hence, the connected data warehouses derive all actionable insights required to formulate market strategies and enable product development, finance, and budgeting analysis.
Typically, embedded business analytics deals with three overarching activities:
Data Wrangling
Data Storage
Data Analytics
Data warehousing connects these activities by integrating, summarizing, and transforming data so embedded data analytics tools can research and analyze them quickly. A seamless coordination between data warehousing and data analytics is crucial for decision-makers to unlock the full potential of embedded business analytics software.
Understanding Embedded Analytics
Embedded analytics integrates Business Intelligence(BI) capabilities with data visualizations that reflect directly onto the application User Interface(UI). It delivers real-time reports by presenting up-to-date data in different user-understandable forms. This new concept is different yet similar to the traditional BI approach.
Traditionally, BI involved collecting, storing, and retrieving data from different available data points, creating reports based on that, and using them to make business decisions. Other independent systems were tasked with pulling data from varied entry points. As a result, users had to interrupt their workflows and switch between applications to gain access to the key insights they needed.
Embedded Analytics allows users to combine insights and actions into a standalone application that facilitates decision-making without interrupting workflows. It scores over the traditional BI approach in delivering a better analytical experience by:
Increasing productivity
Enabling swift data-driven decision-making
Cultivating a competitive edge
Increasing revenue generation
Enhancing UX seamlessness
The Client Requirements: A Short Preview
The Client, an insurance and home warranty provider, required the implementation of a BI tool to create exhaustive yet comprehensive reports to:
Understand product profitability
Perform market and customer analysis
Establish channel reach
Measure their performance
The Client also required creating paginated reports exclusively for their management, administrators, and sales force personnel. These generated sophisticated self-service reports would provide them with a granular and real-time insight into their operations.
Challenges Of Using Embedded Analytics To Solve This Problem
While Embedded Analytics make life very easy for business decision-makers, they can be complex to implement. Since companies collect vast amounts of data, making sense of it can be challenging. Knowing what is relevant and how to represent data based on the needs of individual users required an in-depth knowledge of processes that could seamlessly mesh different data sources together.
Another challenge came from deciding whether to build or buy an Embedded BI solution.
Seeking A Viable Solution
Addressing the Client's requirement required using either of the two options:
Building a BI tool or
Buying/procuring a BI solution "off-the-shelf" and integrating it into the customer portal
Sundew opted for a detailed analysis of the two before deciding.
Sundew found that while building a BI solution would customize it perfectly for the Client, the process would also be costly, time-consuming, and complex because:
Enormous resources are required
Compliances have to be met and
Industry-standard requirements kept in mind
Consequently, project costs would increase significantly and reduce the ROI.
On the other hand, several reasons made buying a readymade BI tool a better alternative:
It could be customized to meet client requirements.
The availability of free and licensed versions would enhance the project's financial viability.
Lowered maintenance costs and enhanced security were other associated advantages.
Making the correct choice was crucial since it would ultimately impact the Client's work process. After considering all client requirements, Sundew concluded that designing a custom BI tool was not viable. Buying or using an expert-designed, readymade BI platform and integrating it with the Client portal offered more options and opened up more avenues for possible insights at a much lower cost.
Choosing Power BI
The final choice of the BI tool to embed into the client portal depended on critically relevant factors like:
Simplicity and convenience: An intuitive drag-and-drop UI that was easy to learn and customize would be helpful.
Self-service features: The ability to cater to the requirements of both technical and non-technical staff with:

Easy-to-use dashboards and rich visualizations
Robust editing and customization features

Enhanced data visualizations: Presence of a wide range of charts and pre-built templates
Modern architecture: Updated and compliant with the latest trends and technological developments
Rich data analysis: Enhanced statistical functions, better drill-downs, and AI features
Options at hand included Microsoft Power BI and Tableau, both interactive dashboard tools with enhanced visualization capabilities.
Sundew opted for MS Power BI because of the following:
Its cost-effectiveness
The presence of robust ETL and data discovery tools wherein:

Reporting datamarts could be built directly into Power BI
No third parties are required for data sourcing

Enhanced options for custom visualizations that enable exploring and displaying of data in captivating ways
Its unique NL query and auto-search capabilities
The immense popularity and high adoption rate
Its ability to share reports easily
The embed option makes it easy to embed the reports within the client portal securely
With lots of intuitive features, Power BI had an easier learning curve. But what finally tilted the scales in favor of Power BI was its ability to provide hermetic data protection and Power BI embedded analytics.
Power Bi Embedded Analytics: A Short Note
Even though developers knew Power BI could embed reports into a client web portal, Sundew was the first to explore this capability. Thus, Sundew's efforts in this regard had no precedence.
Sundew used a combination of licensed and free versions of Power BI. While this ensured the availability of all the required analytical features, it also reduced the project cost.
Advantages of this innovative integration included:
Compelling data experiences for the Client that enabled them to take practical actions swiftly based on the insights provided
Quick and easy customer-facing reports, exceptional dashboard, and highly accurate analytics
Ability to brand Power BI as a feature of the client web portal
Compatibility of Power BI with several data sources like My SQL
Another feature that enhanced Power BI customization further was using a Client user ID to log in. No MS email account was required for the Client to log in and view reports in its portal. As part of the implemented 2FA, we introduced CAPTCHA to enhance this integration's security further.
Conclusion:
Embedding Power BI in the Client portal proved to be a path-breaker primarily for three reasons.
Firstly, the developed project used a practical mix of free and paid versions, thereby reducing the Client's growing cost but expanding the scope of functionality of the two tools.
Secondly, the Sundew team integrated Power BI within the client portal in a record time. We have successfully delivered a complete set of reports to the Client within three months of taking up this project.
Thirdly, merging a PHP web app portal with MS Power BI was a novel concept that probably needed to be explored or implemented.